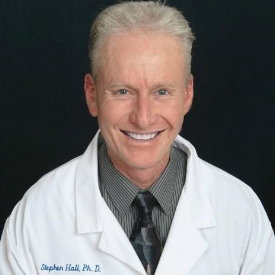 Dr. Stephen Hall brings us a unique blend of expertise in immunology, virology, genetic engineering and stem cells. He also is nationally recognized as a CrossFit and martial arts athlete 
His experience, expertise and talents make him perfect fit for immunoLinkTM Therapies' Expert Panel. 
His background in immunology and virology drug discovery has resulted in the founding of a new company named, Pentamer Pharmaceuticals. The company is developing products in the areas of vaccines, adjuvants, antibody engineering and biomaterials.  The Company's NodaVax system is a highly flexible and effective vaccine technology that has been used to develop novel vaccines for a number of diseases. The Company conducts biomaterials research and develops products that involves the design and application of materials for assays that closely mimic the behavior of cells in living tissues.
Dr. Hall has authored book chapters on using cellular therapy as a treatment for neurological disease as well as detailed protocols on isolating and utilizing neural stems cells for the treatment of neurological disorders. He is currently writing a textbook on Biomaterials and Stem Cell Engineering to be published by John Wiley & Sons.
My company, Neuromics, has been partnering with Dr, Hall for 10+ years. He provide us solutions for stem cell based assays. His ability to delivery proven research solutions that work in many applications is a testament to his research acumen. I am excited to have him our panel. He will help ensure we have the best products available.