StemTrophin is a Curcumin based stem cell activator. In order to be absorbed by cells, Curcumin needs to be finely powdered and requires a carrier. This is the most effective formulation.
Stem cell activation awakens innate stem cell systems to optimize healing, cellular regeneration and functionality. In addition, StemTrophin acts on cells called mesenchymal stem cells. These cells have anti-inflammatory properties making the supplement excellent for muscle and joint pain. 
How Do We Know This Solution Works
Our Clients have autoimmune and degenerative diseases or are seeking peak performance. Prior to customizing their treatment strategies, we measure the levels of immune/inflammatory response, oxidative stress, allergies and stem cell health factors in our Clients' blood serum. The levels of these factors are compared with healthy controls. We then re-test after 6 months of treatments. For many the improvement in health and performance are startling. This is confirmed in the re-tests.

Micronized Curcumin with a carrier to maximize cellular uptake. This is a 2 month supply. The supplement is packed in clear capsules. 2 capsules daily. Take anytime.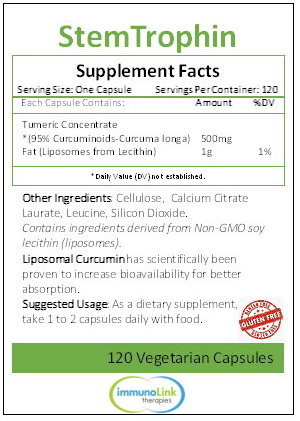 Zhe Fan, Huirong Jing, Jihong Yao, Yang Li, Xiaowei Hu, Huizhu Shao, Gang Shen, Jiyong Pan, Fuwen Luo, and Xiaofeng Tian. The Protective Effects of Curcumin on Experimental Acute Liver Lesion Induced by Intestinal Ischemia-Reperfusion through Inhibiting the Pathway of NF-κB in a Rat Model. Oxidative Medicine and Cellular Longevity. Volume 2014 (2014), Article ID 191624, 8 pages. http://dx.doi.org/10.1155/2014/191624
Purusotam Basnet and Natasa Skalko-Basnet. Curcumin: An Anti-Inflammatory Molecule from a Curry Spice on the Path to Cancer Treatment. Molecules 2011, 16(6), 4567-4598; doi:10.3390/molecules16064567
Shehzad A, Ha T, Subhan F, Lee YS. New mechanisms and the anti-inflammatory role of curcumin in obesity and obesity-related metabolic diseases. Eur J Nutr. 2011 Apr;50(3):151-61. doi: 10.1007/s00394-011-0188-1. Epub 2011 Mar 27.